Block Party
September Block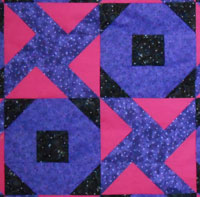 Midnight Sky
Use left over fabric or choice your own color palette.
The options are endless!
Finished Quilt Size: 94" x 94"
Finished Block Size: 15" x 15"

Size troubles?

Take a look here, it may be just what you're looking for.


Block Party
Check out our block of the month!


Ask Riina!
Stuck and not sure what to do?