Batting: Soft & Bright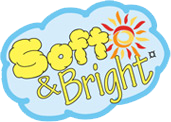 Characteristics and Benefits
Soft & Bright undergoes the same manufacturing process that makes Warm & Natural the nation's leading cotton batting. Soft, bright white polyester fibers are needled into a base material that prevents shifting, tearing and bunching.
The needling process holds the batting together without glue, resins, or hard coatings that make hand needling difficult. The fiber is soft and fluffy to the touch and the evenly layered fibers stay in place inside your quilt even after a lifetime of washings.
Soft & Bright's superb construction means effortless stitching. Free motion quilting is a breeze. The batting stays with the fabric as you feed it under your sewing machine foot.
Finish your quilts faster by leaving your stitch lines up to 10" apart. Confidently use a hoop for hand quilting. Soft & Bright retains its shape and stays flat and even.
Soft &; Bright dries quickly and little to no shrinkage is experienced.
Wash and Care Instructions
The soft, 100% polyester fiber does not require pre-washing as there won't be any shrinkage in your finished project. If pre-washing is still desired, please follow these directions if you wish to pre-wash your batt:
Hand wash in a basin or tub with a mild detergent. Do not agitate or spin in your washing machine.

Soak for 20 minutes, then rinse several times.

Squeeze water out. Rolling in a towel will help to remove excess water.

Dry in a cool or warm dryer or allow to dry flat.
Once quilted Soft and Bright polyester batting can be machine washed again and again without fear of separation or bunching.
Batting Prices
Batting Prices
Type
Width
Price Per Yard
Soft & Bright (½" thick)
90" wide
$6.99/yard

Size troubles?

Take a look here, it may be just what you're looking for.


Block Party
Check out our block of the month!


Ask Riina!
Stuck and not sure what to do?